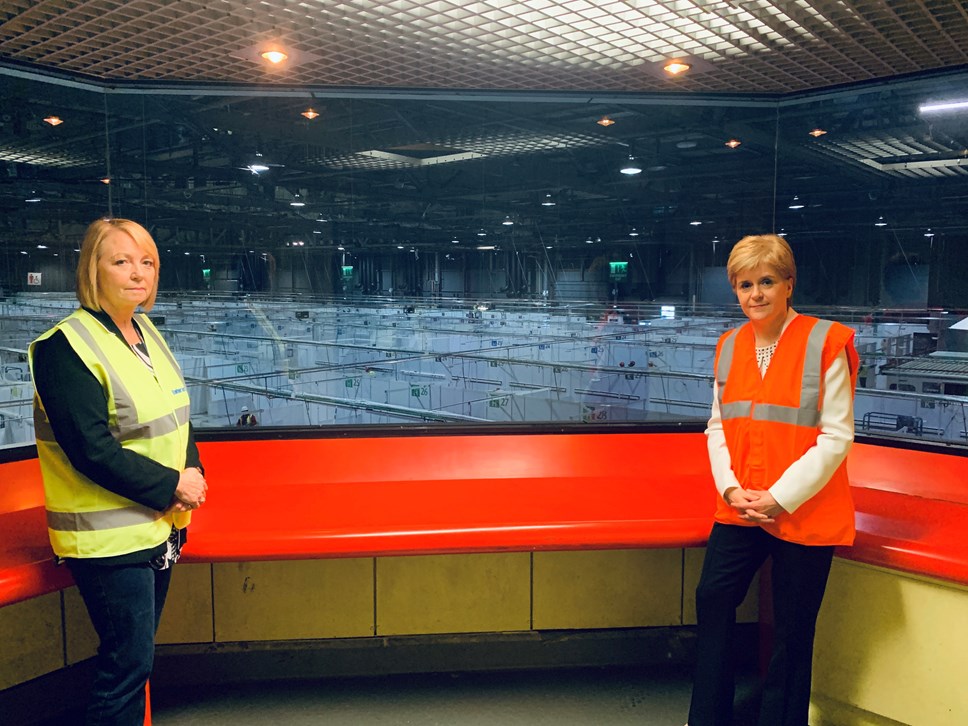 First Minister thanks staff at NHS Louisa Jordan
The First Minister has praised the dedication of the NHS Scotland staff and building contractors working to establish the NHS Louisa Jordan.
During a visit to the NHS Scotland medical facility at the Scottish Events Campus (SEC) in Glasgow, the First Minister said their efforts will provide reassurance to people across Scotland and if required, ensure that the NHS has extra capacity to treat patients.
Construction work began on turning the SEC into the NHS Louisa Jordan on Tuesday 31 March. Since then:
23,000 square metres of flooring have been laid
partitions between the beds have been constructed, creating more than 1,000 bed bays
more than 8,000 pieces of medical equipment have been ordered
35,000 metres of network cabling have been laid for the nurse call system
135,000 metres of cabling for lighting and power sockets have been laid
a new bespoke system to ensure oxygen supply to every bed has been put in place with 1,400 medical gas outlets
The First Minister also urged people across the country to stay at home over the Easter weekend to help slow the spread of coronavirus (COVID-19).
The First Minister said:
"Everyone involved in establishing the NHS Louisa Jordan deserves our sincere thanks. They are working tirelessly under extremely challenging circumstances to build a unique national facility.
"While I still hope that it will not be needed, the NHS Louisa Jordan will help our NHS to prepare and provide people with reassurance that we have measures in place to help treat people during this pandemic.
"I urge everyone in Scotland to continue to follow the social distancing advice and to stay at home. By following the social distancing measures, they can help to slow the spread of COVID-19, save lives and protect our NHS. If they do this, the NHS Louisa Jordan will not need to open."
Notes to editors
The NHS Louisa Jordan is an NHS Scotland-run medical facility. It will have an initial 300 beds which could expand to hold more than 1,000 patients if required.
Jill Young, former Chief Executive of the Golden Jubilee Hospital at Clydebank, has been appointed Chief Executive of the temporary hospital.
The facility is named after Sister Louisa Jordan, a First World War nurse who died on active service in Serbia in 1915 while providing much-needed care to an area of dire need as part of the Scottish Women's Hospitals for Foreign Services. Born in Maryhill, Glasgow, Louisa Jordan signed up to the war effort in December 1914 while working as a Queen's nurse in Buckhaven, Fife.
The main contractors involved in the construction of NHS Louisa Jordan are:
Balfour Beatty
GRAHAM
Kier Group
Robertson Group
The British Army supported the Scottish Government and NHS Scotland by undertaking a feasibility study on how the SEC could be transformed into a hospital. They are no longer involved in the construction of the NHS Louisa Jordan.
Construction of the NHS Louisa Jordan is expected to conclude around mid-April.