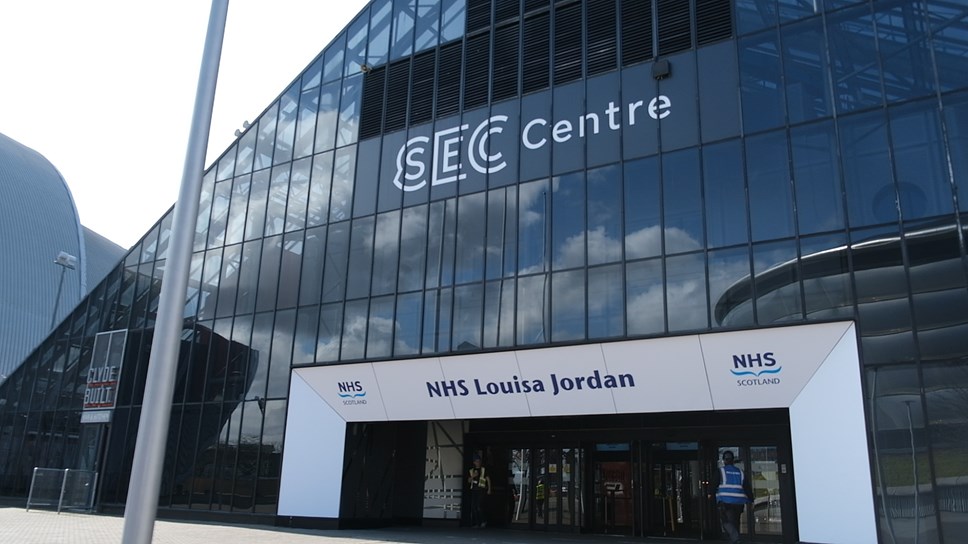 NHS Louisa Jordan Chief Executive Awarded MBE
NHS Louisa Jordan Chief Executive Jill Young has been recognised in the Queen's Birthday Honours for her services to NHSScotland during the Coronavirus (Covid-19) pandemic.
Jill becomes a Member of the Order of the British Empire (MBE) for leading the creation of the temporary hospital in less than three weeks as part of the Scottish Government response to Covid-19 and for her leadership of NHS Scotland's Covid Testing Delivery Programme.
With extensive experience in healthcare and large scale national projects, Jill led the team who converted the Scottish Events Campus (SEC) into a temporary hospital, with an initial capacity for 300 beds, and the ability to expand to 1,000 if required.
Jill said: "I am humbled and overwhelmed to receive an MBE in this year's honours list. However, I have to say a sincere and heartfelt thank you to every single person who has worked at the NHS Louisa Jordan over the past several months.
"The spirit of teamwork, collaboration and innovation that has been seen at every stage of this journey is unlike anything I have ever experienced. To bring together clinical experts, technical teams and contractors in a few days who have never worked together before, and build a fully functioning, safe and effective, NHS hospital inside an exhibition and concert venue in just over two weeks is an unbelievable accomplishment, and one which I will never forget being a part of."
Six months on from its construction, the NHS Louisa Jordan has continued to supporting the NHSS remobilisation plan, carrying out thousands of outpatient appointments each month, to reduce waiting times and help patients receive the care they need faster. This includes orthopaedics, dermatology, plastic surgery consultation, radiology and diagnostic imaging services.
Additionally, part of the hospital has been converted into a state of the art medical training facility, which has to date seen more than 1,000 individuals undergo clinical training on site. Plans are now in place for approximately 600 people to be trained at the campus each month.
Jill added: "As a national resource for the NHS in Scotland, we are proud to be playing our part in ensuring that patients are receiving the safe, effective and person-centred care they need during the current situation.
"The NHS Louisa Jordan continues to play a vital role supporting the remobilisation of NHScotland and other learning institutions by providing a physically distant, safe venue to carry out key clinical skills and training."
Duncan McKay, Operations Director for Balfour Beatty, who played a key role in the construction of the NHS Louisa Jordan was also named in this year's list, acknowledging his remarkable efforts in response to the Covid-19 pandemic.
Duncan Mackay, Balfour Beatty Project Director for the NHS Louisa Jordan, said: "Despite the challenges we have all faced during the pandemic, it is great to see so many people working within the construction industry recognised for their vital role in the country's battle against COVID-19.
"Having led the transformation of the NHS Louisa Jordan hospital, I can say with certainty that without the hard work and dedication of our expert teams and supply chain partners, this recognition would not have been possible.
"Congratulations to everyone who achieved a place on the coveted Queen's Birthday Honours, and to all those who supported them on their journey."