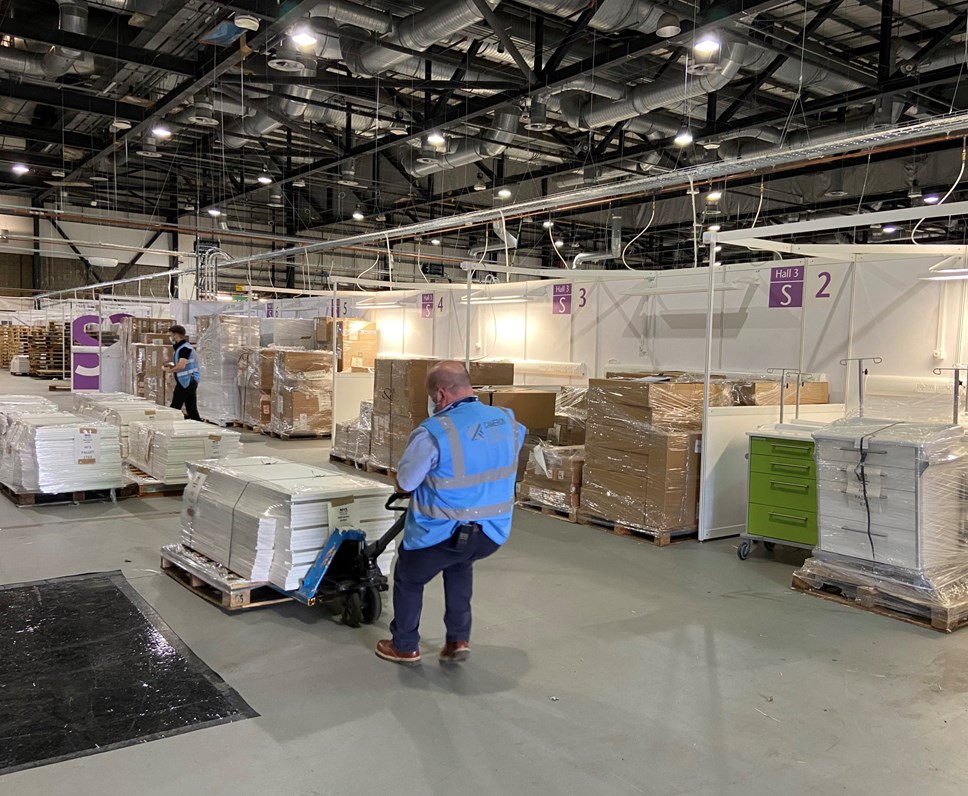 NHS Louisa Jordan continues to benefit patients across Scotland
Over £1M worth of equipment has already been distributed
In March 2021, outpatients, diagnostic appointments and clinical training stopped at NHS Louisa Jordan Hospital, while vaccines continue at the Hydro location within the Scottish Events Campus (SEC).
Following the decommissioning of hospital services at the SEC main building, and in addition to ongoing vaccinations at the Hydro, NHS Louisa Jordan continues to benefit patients across Scotland through the distribution of medical equipment.
So far NHS Louisa Jordan resources have been used to:
further equip a range of services in the Western Isles, Forth Valley, Fife, Lanarkshire, Glasgow and Tayside;
set up the NHS Louisa Jordan vaccination facilities at the SSE Hydro;
help NHS Lothian vaccination facilities;
further equip the new NHSScotland Covid Testing Laboratories; and
support NHS Greater Glasgow & Clyde to continue providing the Heart Failure service they started within NHS Louisa Jordan to help waiting times for patients.
A complete package of equipment is also earmarked for NHS Highland for the new facilities at Skye, Aviemore, and the new National Treatment Centre in Inverness.
Jill Young, Chief Executive of NHS Louisa Jordan, commented: "Up until March 2021, NHS Louisa Jordan has been supporting the remobilisation of NHSScotland services by carrying out much needed outpatient and diagnostic appointments, training and research.
"Now we will also be providing equipment to existing, redesigned and new health facilities across the whole of Scotland. The impact and benefit to patient care is immeasurable and is a legacy that will go far beyond those who have been seen or vaccinated at the SEC in Glasgow."
This distribution is just the first tranche of the equipment being earmarked for health and social care facilities across Scotland.
A vital element of the NHS Louisa Jordan programme is ensuring plans and resources are there for future contingencies. As such, NHSScotland will be storing and retaining 500 bed bays, along with supplementary infrastructure equipment from the hospital along with a fully comprehensive Delivery and Operational Manual to ensure that our health service can quickly and efficiently respond should there ever be a future need for an emergency hospital.
Notes to editors
Examples of equipment repurposed includes:
Patient beds
Resuscitation trolleys
Monitoring equipment
Patient handling equipment/patient transport trolleys
Screens
Urine Analysers
Patient furniture (chairs, bins lockers etc)
Portering chairs
Suction regulators/units
Drip stands
Thermometers
X ray accessories