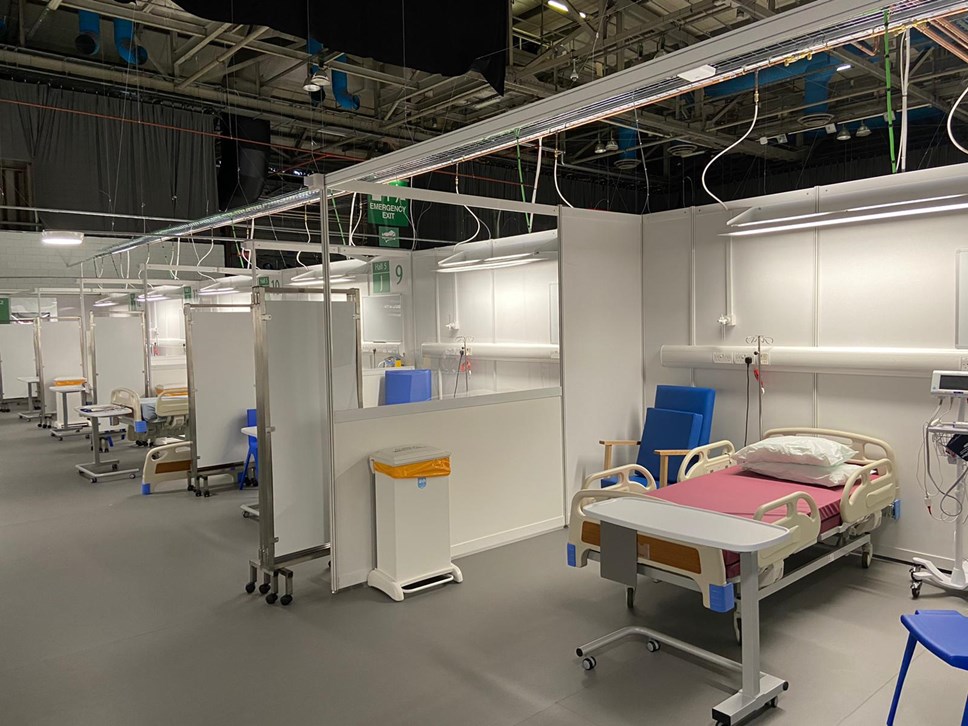 NHS Louisa Jordan Provides Vital Healthcare Training
More than 700 healthcare students and staff have now undergone essential training at the NHS Louisa Jordan as the facility continues to support the NHS workforce in Scotland.
Following the announcement last month that the hospital would be used to provide large scale clinical training, Hall 5 has been transformed into a dedicated skills education hub, complete with audio visual technology, support equipment, immersive simulation pods and dedicated spaces for technical and non-technical healthcare training. The national NES Clinical Skills Managed Education Network has provided leadership and its Mobile Skills Unit is part of the Hub.
In the first six weeks, 733 people across NHS Boards, Royal Colleges and Universities have now received vital training on the site. Plans are now in place for approximately 600 people to be trained at the Louisa Jordan each month.
Chief Executive of the NHS Louisa Jordan, Jill Young, said:
"As a national resource for the NHS in Scotland, we are proud to be playing our part in ensuring that the training and education which is so important to staff and students from across the country is being provided in a safe, effective and timely manner.

"As a result of the Covid-19 pandemic, large numbers of key workers and medical students were left unable to undertake essential training or complete their qualifications. This would have had a significant impact on the ability of NHSScotland to continue to provide the highest possible standard of care for patients and families as we continue to respond to the current situation.

"NHS Louisa Jordan has supported NHScotland and other learning institutions by providing a physically distant, safe venue to carry out key clinical skills and training."
Notes to editors
Hall 5 of the NHS Louisa Jordan is providing training in: basic and advanced life support, venepuncture, urinary catheterisation, communication techniques, and non technical skills including leadership, prioritisation, situational awareness, communication. Training is also being carried out using immersive simulation for different teamwork health care scenarios and settings.
To date, the following organisations have been involved in this project:
NHS Greater Glasgow and Clyde
NHS Lanarkshire
NHS Education for Scotland
National programmes for nursing and midwifery, Family Nurse Practitioners, Advanced life support (ALS) Ill medical patients acute care and treatment course (IMPACT), Faculty development, Generic instructors Course
University of Strathclyde
University of Glasgow
University of West of Scotland
Glasgow Caledonian University
The Royal College of Physicians and Surgeons of Glasgow
Scottish Ambulance Service
Glasgow Clyde College
NHS Academy
The soon to be launched NHSScotland Academy provides a unique opportunity to support a new approach for workforce development. A partnership between NHS Golden Jubilee and NHS Education for Scotland, it will provide needs driven accelerated training across a range of professions.
NHSScotland Academy will provide training and scholarships linked to recruitment and career progression and will be used to support the National spread of best practice and values culture. Quality training, skills development and career satisfaction will enable a more effective, efficient and resilient workforce to deliver high quality healthcare.